Press releases
Scroll down to Young Continentals and Continental Kids.
---
THE CONTINENTALS:
the global music ministry

Continentals made history:
Rotterdam: It is now almost 50 years ago the Continentals started as ONE christian youth group, performing contemporary christian music under leadership of the founder Cam Floria. As they had to travel accross the American continent , doing concerts on the way, they named themselves: the Continental Singers. This totally new concept became an incredible success: soon 2 Continental groups, next 3 groups were on the road, etc. In 1969 Leen La Riviere (still the European leader )overseeing 5 Continental offices) took the challenge to start in Europe with the Continentals. Today there are over 60 Continental groups on the road, singing in american, english, french, german, korean, chinese, spanish, portugese, dutch, japanese, romanian, italian, hungarian, slowak, etc. The Continentals have performed on every continent (except Antarctica), they have performed in 83 nations; they have done over 1500 tours, doing over 50.000 concerts, reaching over 15 million (!) visitors. And they made over 100 different LP/CD-productions. Songs of the Continentals have been translated in at least 25 languages. The Continentals saw major breakthroughs in the 'seventies' with their famous reli-musicals. The Continentals were Award-winning and have been on numerous national TV-broadcasts…
Continentals shape the future:
The Continentals are such a global success as they offer each season a great concept: a special theme, using every year new contemporary christian music, travelling=the adventure of building bridges between cultures, meeting youth, serving all the denominations, performance and personal development & characterbuilding, excitement and inspiration… After audition, selection, professional training a group Continentals has appr. 30 persons (age 16-33 years) 'on board' to go on a 1 - 4 week tour. Continentals is a challenge of the new and innovative. Leading choreographers, producers, songwriters and composers create the program of the Continentals each year… A leading nationwide magazine formulated the Continentals: "Pro Deo and Professional"… with all these great credits and acknowledgements it remains the desire of the Continentals to be a real inspiration for local visitors, churches and groups, sothat for many this concert can be the beginning of a new personal future.
And more…
EACH year a NEW theme of the program of The Continentals. And each spring a NEW CD with most of the songs of this strong program will be released in America, Asia and Europe in spring. The theme and songs reveal that there is more to life as being a consumer, that real life is worth checking!
For more information: www.continentalart.org; www.continentals.nl and www.continentalconcerts.nl
---
YOUNG CONTINENTALS GO GLOBAL

TEENS WRITE HISTORY:
Rotterdam-: Early nineties, more and more teenagers got inspired by the concerts of The Continentals and wanted to do audition and participate. But to go with Continentals on tour you need to be 16.....As the questions from teenagers were growing rapidly the USA-office and the European-office decided to unite forces and create the Young Continentals for the age 13-16 years. After solid preparations, searching for great teenage-music, special youth choreography, and total new stage set-ups: in 1992 the first groups were launched in the USA (Cam Floria) and Europe(Leen La Riviere). This was immediately a great success: Young Continentals were born…
Today there are several Young Continental groups in action in Europe and elsewhere. They have released 20 CD's, done over 2500 concerts special for youth and reached over 750.000(!) visitors. Additional: several other language versions were recorded(like in french,german, slowak).
YOUNG CONTINENTALS SHAPE A NEW FUTURE:
Young Continentals are probably the inventors of the "youth-performance-concept": select the talented and highly motivated 'kids'....unite leading choreographers, producers, songwriters in the field of pop, rock, rap, hiphop, ballads and create each year a great new show that combines sound, light, the best of youth music, great inspiration, christian values with travel-experience and meeting their own generation, sharing that there is more to life as 'Idols', XTC or MTV. The success of this concept is enormous and youth-groups, churches, theatres like to have such a group of 30 young people to be motivators in their villages and cities.
And more…
EACH YEAR TOO: a NEW theme of the program of the Young Continentals , to explain that there is more to life and that there is a real higher purpose to life for youth as just being a consumer. Each year a CD with most of the songs of this strong program will be released in America, Asia and Europe in spring.
For more information: www.continentalart.org; www.continentals.nl and www.continentalconcerts.nl
---
THE CONTINENTAL KIDS: MASSIVE INTEREST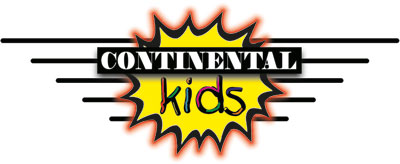 KIDS CONQUER NATIONWIDE ATTENTION
Rotterdam-: Around 1995 more and more kids of primary school ages started to dance and sing along in the aisles of concerts of the Continentals(age 16-33) and Young Continentals(age 13-16). Asking why they liked to copy all those choreo's and performances, they said, they liked it so much and why couldn't they participate? The board of the Continentals started to study this request and after 2 years of experiment by Leen La Riviere the first Continental Kids group started in 1997, based on the same ingredients as The Continentals: great talents, high motivation, great dedication, high performance and resulted in 30 kids from all denominations and from all over The Netherlands, age 8-12 years under direction of professional chroreographers, producers, musicians, pedagogues, musicologists, etc. After a professional study of a week, they did 10 spectacular concerts and even sold out the famous concert-building De Doelen of Rotterdam. The concerts were fascinating and draw national attention. So many more kids wanted to join this group, sothat today there are 5 Continental Kids groups in the Netherlands on the road....They released since 1997 14 CD's, did over 650 concerts, had over 150.000 young visitors at concerts, were on national television, in radio-programs and in countless papers and magazines…
KIDS GO INTERNATIONAL
This very challanging and inspiring concept draw attention outside The Netherlands, which resulted in Continental Kids groups in Germany, Slowakia, France, Hungary, Romania and the USA… more nations will follow soon, as preparations to do such professional productions with children takes appr. 2 years.
And more…
Each year a NEW theme and a NEW CD. It helps children to understand the presence and the existence of God, all communicated in a pop-idiom, including a contemporary sound and light stage-performance.
For more information: www.continentalart.org; www.continentals.nl and www.continentalconcerts.nl